Every Black Friday and Cyber Monday has crazy deals on electronics.? While most will splurge for a new laptop or a new TV to boast their advancement in the technological era, they forget to look at accessories or peripherals that accent those products and take them to a higher level of performance and enjoyment.
TVs, computers, iPhones and gaming console all produce sound. The built in speakers are terrible choices to reproduce that sound for maximum enjoyment, especially when utilizing any surround sound feature. The Logitech Z506 was recently sent to us to test out, and I was pleasantly surprised at the performance for price this product sits at.
The Logitech Z506 set is a 5.1 surround sound speaker set that contains 5 satellite speakers and one sub woofer.? Rated at 75W of power, we had no trouble turning this up enough so it filled a room from wall to wall including room to spare on the dial.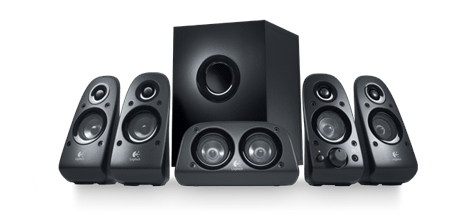 Design: The set have 4 traditional tower structured speakers with one big driver and small tweeter at the top that are easy to stand on any desk.? The black finish on all parts of this set make it easy to match in any room or blend into the background of any TV or computer desk.? The Z506 comes with a double driver horizontal center speaker that can be placed at the bottom of a center monitor and has a pop out stand that makes it a bit more elegant of a centerpiece.? For me, moving away from a two speaker set on my desk and two speakers behind me to a three piece system with two speakers behind me made a world of a difference.? The sound from the center speaker alone makes a difference than just two speakers on the side.
The sub woofer comes in a skinny form factor from most wider subs that I have traditionally used.? I found this handy to have around since we are in a world today where everyone has more things to put next to each other, so it fit snug on the ground between my desk.? The back controls allowed for various AND multiple types of input which were great so I could keep a few things connected without having to replug in certain devices just to use the speakers.? The sub woofer also comes with a built in dial on the back to control the amount of "kick" you'd like.? In all honesty, I have to say I am not a fan of the dial on the back of the sub.? Most people keep the woofer on the ground, therefore to constantly duck down and turn the dial manually separate from the actual control of the overall volume which is on a towered speaker was annoying.? My current set up has the controls for the speakers and bass (plus the treble) built onto the main speaker, and it allows me to switch from gaming to surround mode (using just 2 speakers versus utilizing all 4).? If I were to propose any changes to this set up, it would have to be a dedicated sub woofer dial on the speakers that are in plain sight on the desk with the ability to switch between 2 or 5 satellites in use.
Performance: The biggest surprise after turning on a set that costs no more than $80 dollars on Amazon was the quality that it produced.? Producing loud sounds to fill a room is easy for speakers (it certainly was for this set) but the surround sound quality is what set this apart from other mid range speakers you could buy.
I highly recommend for anyone who listens to any type of media from their computer to check out the Logitech Z506.? It delivered on its promise for true surround sound whether it was listening to music from iTunes, watching a movie from the DVD drive or even gaming from an XBox 360.? I found myself plugging in my iPhone from time to time (in one of the multiple inputs- a handy feature) just to enjoy having music all around the room rather than only an iHome or something that produced sound from one location.
I thought it was a perfect addition to my home entertainment with the gaming on the 360…turning off the lights and playing on a big flat screen is one thing, but feeling like you're getting shot at from behind is truly a new level of experiencing a game.
Overall: The holiday season is coming up and it is always tough to find a gift for the kids or techy that 'has everything.'? They might have an Xbox or a Playstation, or a new computer with a fancy TV, but do they have the accessories to go with it? If you're looking to give them a lasting gift that they could truly appreciate, without denting your wallet, I suggest you check out the Logitech Z506 set.? It's affordable, and delivers true surround sound performance that can be utilized by multiple electronic devices.