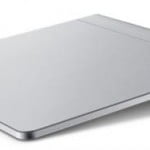 Along with a new 12 core Mac Pro and a new iMac, the guys at Apple are at it again releasing their magic trackpad.? This magic trackpad is no ordinary trackpad (hence the name 'magic') and supports full multi-touch capabilities similar to the ones found on a MacBook Pro.
The trackpad comes with wearproof material so you don't have to worry about tarnishing it over use.
The entire large surface is a giant button (think like a blackberry storm screen) and connects via bluetooth so no annoying wires with the ability to go up to 33 feet away from the computer and still get signal.
For only $69, this baby could be yours.