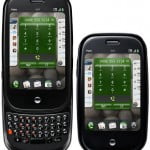 I was sent the Palm Pre earlier this week and to my surprise…I wasn't surprised. *You may need to re-read that sentence to understand it the way it was intended.*
The Palm Pre Plus, recently released on Verizon Wireless, has had a fair amount of press and chatter over the new webOS and its simplicity for everyone.? I'm not sure if my initial thoughts would concur with the over-hyped media over this phone.
The phone took me a couple tries to initially setup the language, email settings, wifi…etc and I was not too keen on the lengthy process.? I liked the initial tutorials on the swipe pad at the bottom and the smooth display and transition, but after the last two Android phones, the resolution on this phone seemed a bit ancient.
The phone overall has a great feel to it, not too heavy, smooth, nice rounded corners and slides up well to unveil a slick keyboard.? It has dedicated volume rockers and a lock button (similar to that on an iPod) but has an unusual shell to hide the battery.
I don't want to give my full thoughts on some of the products Palm and the phone support (such as Mobile Hotspot) but so far I haven't found the Palm Pre Plus to be anything extraordinary that I would go out of my way to recommend to a friend.? Hopefully in the next coming weeks, it will earn some better marks in the simpler categories such as daily texting and phone calls as well as the browser and applications market.