Windows 7 is becoming a new industry standard, boosting the Microsoft reputation after a shaky Windows Vista operating system.? While it's hard to ignore the growth of Apple computers and their OS X operating system platform, Windows still has a huge market share over OS X on a vast number of applications and software.
Mac does offer a bootcamp way to install Windows 7 on your machine, but it requires a reboot and does not always utilize all of the resources of your Mac.? Parallels 6 is a great way to run Windows on your Mac just as if it was a native install!
Parallels 6 was recently released earlier this year in a long line of products.? Similar to other counterpart software such as VMware, it allows a user to create an installation of Windows that can run in a virtual machine so there is no need to reboot to use Windows and a user can cross files between platforms.
Parallels 6 was a great release because it offered a big boost in using all of your Mac hardware and showed a much tighter integration when it came to running Windows programs and integrating your Mac OS X files.
To install Windows 7 on your Mac using Parallels 6, run the .dmg of Parallels to get it installed on your machine.? After it is complete and registered, pop in the Windows 7 installation disk in your DVD drive (while you are still in OS X).? Note: You can use either 32 or 64 bit software.? I used the x64 platform for this installation with NO problems.
Select a New Windows Installation.? The other options allow you to migrate settings from a Windows machine you may have and the option all the way to the right allows you to look at all the machines you have installed and choose to boot into a specific one (great for users who need multiple installations of different Windows platforms).
Choose the drive where your installation disk is located.? The default one is usually correct.
Type in the product key for the Windows 7 disk.? Make sure it has NOT been used and is not installed on another machine.? You will need a current active and unused key to install this software.? It will automatically register the software for you so you do not have blinking activation notices!
Option 1 (Like a Mac) can be great if you want to integrate music or work files between the installations of your OS X platform and the Windows 7 operating system.? It will allow the Windows partition to see all of your user files and share them.? The other option keeps them separate and neither OS X nor Windows 7 can cross file systems.? A manual transfer of data would be required.? For my installation, I chose the first option because I wanted to be able to move files and data across both operating systems.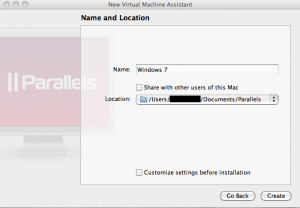 Choose where you would like to install the files of your Windows software.? You can also choose to share the platform with other users on your machine and change the settings of the installation, such as allocated resources…I left the default settings as they were a good balance.
Windows will reboot and load files.? Try to stay off your computer during the installation just to avoid and hang-ups or freezes.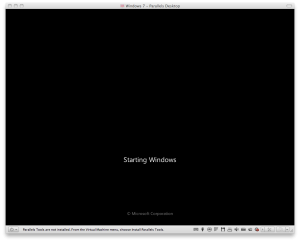 Hmm…this is starting to look familiar…
The installation will now begin in the virtual machine.? It's pretty awesome to see exactly how a virtual machine operates just like a regular machine.? You are essentially running a computer within a computer and installing software on it!
Depending on your disk, you may be prompted to choose which installation you want to install.? Remember, the different flavors of Windows include different features.? If you are unsure which version you have, check the box your disk came with.? It will have the name of the flavor near the product key.
A quick 20-30 minute installation for Windows to copy, expand and install files to your Mac…almost done.
Hey, we made it!? Now you may think you are in OS X, but in reality you are in OS X and Windows 7.? If you look at the top nav bar on your OS X screen, you will see two red bars which displays your Windows 7 installation and you can open Windows programs straight from there!? Use Internet Explorer, play Hearts from the Windows 7 operating system…or install your favorite Windows programs straight from your OS X screen.
I was very happy about the way the Parallels 6 software handled the system resources and load.? I never felt my computer heat up or have a slow down when it came to running OS X applications or things on the Windows 7 side.
I highly suggest you try this alternative to boot camp because it makes life easier.