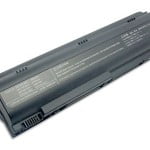 I have a laptop that has a bad battery I think because it only will stay charged for 10 minutes.? I don't know how to fix this because I don't want it to be useless but its probably 2 years old so I'm not sure how to get a new battery.? Is that possible?
A laptop usually has a battery life of around 3 years but sometimes that number can change due to the number of "charging cycles" the laptop undergoes.? Also, if you leave your battery in while the computer sits plugged even after it is charged, or you don't properly exercise it, it can lose its capacity quick!? If you have a bad battery, you can salvage what you have now and make it portable again.
?The best way to reuse a laptop with a bad battery is to just replace the battery!? It's a simple fix but most people never think it is possible or feel they do not have the technical know-how to do the replacement.? Changing out a battery is quick, fast and easier than filling gas in your car.
The place where it gets complicated is finding the new battery to order.? In order to do that, you can either Google your laptop brand and just add "battery" after it or take out the battery, find a model number on the back and type that into Google.
I recommend using Google because most manufactures like to charge an arm and a leg to send you out a new replacement battery.? Flip over your laptop and look for a lever or switch near the bottom right hand corner of your laptop.? Usually by pushing that down and then pulling up, you can release your battery to find the model number or to put in the new one.? To install the new one, just snap it in, no levers or switches to pull or push!
Congrats, you now have a new portable laptop again.? Be careful about how much you charge the laptop and if you keep it plugged in for an extended period of time, take out the laptop.? The laptop might not have as much computing power or graphics performance, but for sitting plugged in idle, it will do the job!