Desktop icons that load very slow in Windows XP are annoying when you first boot up your computer.
Icons that load slow can be fixed so that you can speed up how fast they show up on your desktop when you reboot or start up your machine.
If you have a computer that loads each individual icon one by one, try our fix below to see if it speeds up how fast your icons load when you boot up your machine.
The first step to making your icons load faster is to tweak settings in a hidden folder on your computer.? To view those hidden folders, we need to enable viewing hidden folders in Windows XP.
Open your My Computer and at the top look for the Tools nav bar and select Folder Options at the bottom: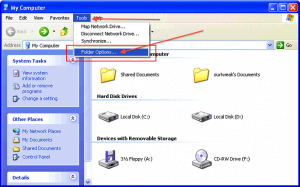 Next, look for the view tab at the top of the next pop up box:
On the next screen, scroll down a little until you see the option to Show hidden files and folders and enable this choice:
After, click OK and then navigate back to your My Computer screen.? Click on your main hard drive, usually the C:/ drive and look for the Documents and Settings folder which is traditionally on the top left of the next screen:
Select your name as the user on the next page, do not click "All Users."? On the next screen, midway down the page should be a transparent looking folder called Local Settings.? Click on that folder to proceed.

Next, click on the transparent looking folder of Application Data:
At the bottom of that folder is a file called Icon Cache.? Delete that file and the next time you reboot your computer, it will rebuild that file but it will be a smaller size and help make your computer load icons faster.